As the use of hernia mesh has become more common, the frequency and severity of reported hernia mesh complications and side effects from these products have grown. This has led to more studies on the safety and efficacy of these hernia mesh products.
Studies have concluded that the frequency and severity of hernia mesh complications may outweigh the potential benefit these products provide. Some studies suggest these hernia mesh products should only be used as a last resort after other treatment options have been exhausted.
Patients considering a hernia mesh implant should be made aware of the risks of serious hernia mesh complications to make an informed decision about their use. Failing to disclose to physicians and patients the true scope and nature of these hernia mesh complications form the basis of most of the hernia mesh lawsuits filed today.
Alarming Numbers of Hernia Mesh Complications
Many experts believe hernia mesh products on the market today are just not suitable for permanent implantation inside the human body.
Almost all hernia mesh products are made of weaved polypropylene with a coating of some type on one side, while the other side contains pores designed to allow tissue in-growth to reinforce the weakened muscles. The coated side is designed to prevent unintended mesh adherence, so the hernia mesh does not perforate or adhere to nearby bowels or organs.
Unfortunately, there appear to be serious issues with the design or function of both sides of these hernia mesh products.
The most serious hernia mesh complications occur when the coating fails to prevent the unintended fusion of the mesh with nearby bowels or organs, resulting in perforation or adherence. Serious infections of the hernia mesh and bowel obstructions are also quite common. These serious hernia mesh complications typically require surgery to correct and can leave the patient in severe, long-lasting pain.
People injured by severe hernia mesh complications may miss significant time from work and may end up with enormous sums of medical debt. In the worst cases, the normal lives of family and friends are forever altered due to the use of these faulty hernia mesh devices.
If you or a loved one has suffered an injury due to a defective hernia mesh patch, it's important to contact an experienced lawyer immediately. You may have the legal right to seek compensation from the manufacturer of your hernia mesh product. But there are deadlines and time limitations on your legal claim that could expire, leaving you with no recourse for the injuries you have suffered. If you think you might have a claim, you should contact an attorney immediately for a free consultation and medical record review.
Suffering from Hernia Mesh Complications?
You may be entitled to compensation.
Common Hernia Mesh Complications According to Patients
The following are some of the most common hernia mesh complications and side effects reported by patients:
Severe pain
Infections, both localized and systemic
Perforation of the bowel or other organs
Obstruction of the bowels causing abdominal pain
Erosion of the mesh
Nerve damage
Adhesion of the mesh to the bowels or nearby organs or tissue
Seromas or pockets of fluid that develop around the mesh
Groin, testicular, and leg pain
An autoimmune response that can manifest as high skin or body temperatures, inflammation, and redness
Hernia Mesh Cases and Settlement Amounts
The multitude of serious hernia mesh complications associated with the various types of mesh has led to a large number of hernia mesh lawsuits being filed against manufacturers. While there have been some settlements, the bulk of the cases have only recently been filed.
Typically, multiple lawsuits against a single manufacturer will be consolidated at both the federal level (called Multi-District Litigations or MDLs) and state level. We expect the number of cases filed to continue to increase over the next few years given the widespread use of surgical mesh in hernia repair.
Below is a discussion of some of the recent cases and settlements.
Thorpe v. Davol Inc. (opinion)
Christopher Thorpe who alleged he was injured by Davol/C.R. Bard's Kugel Hernia Mesh patch filed a case against Davol/C.R. Bard in 2011. His case, as well as almost all other Kugel Mesh cases filed in federal court in the U.S., were consolidated and ultimately transferred to the United States District Court of the District of Rhode Island. The Thorpe case and subsequent trial was the second of four bellwether trials in this MDL.
A bellwether trial is a case where the parties test their legal arguments, both claims and defenses, in the hope that the result will inform the parties of the relative strength and weaknesses of their case. The goal of a bellwether is to move the entire litigation toward some resolution.
After receiving a Kugel Mesh Patch during a hernia repair surgery, Thorpe began complaining of severe abdominal pain approximately 4-5 months later. This pain developed into an infection of an area of the mesh requiring hospitalization and surgery to drain the abscess, debride the Kugel Mesh Patch as well as removal of the part of the Kugel Patch that had not incorporated into the tissue. This later developed into an enterocutaneous fistula which is a serious complication where the contents of the stomach or intestines begin to leak through the skin. The fistula required Thorpe to wear a large ostomy bag. Thorpe eventually had to undergo surgery to repair the fistula and remove the mesh which was believed to be the cause of the fistula.
After a 13 day trial, Christopher and his family were ultimately compensated for his injuries and was awarded a total of $1.5 million. This figure represents compensatory damages only as the jury was not allowed to consider any punitive damages verdict after Judge Lisi ruled there was insufficient evidence to support a punitive damages verdict.
Bard Kugel Mesh Settlement
Shortly after Thorpe's settlement, Bard and Davol agreed to settlement of approximately 2,600 cases pending in Bard Davol Kugel Mesh MDL for a total of $184 million dollars. Among other things, these suits alleged the hernia mesh patches were defective due to a faulty memory coil inside the Bard Kugel patch. The hernia mesh manufacturer disclosed the information in a U.S. Securities and Exchange Commission filing stating that they reached agreement in principle with multiple plaintiffs. While Bard never admitted any wrongdoing, they did ultimately pay the plaintiffs a total of $184 million dollars.
Kugel Mesh & Ventralex Canadian Class Action Settlement
In 2014, the Canadian Ontario Superior Court of Justice approved a large settlement agreement for individuals that were part of a national class action lawsuit alleging injuries from C.R. Bard's Kugel Mesh and Ventralex products.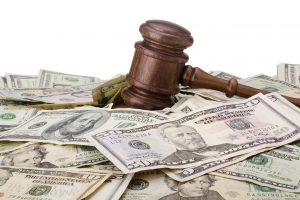 Like the Kugel Mesh, the Ventralex is a polypropylene mesh patch that contains a spring-loaded memory coil. And like the Kugel Mesh products, the memory coil caused a number of serious injuries to patients implanted with Ventralex.
The plaintiffs pointed to this faulty design and attributed it to many of their medical complications such as bowel obstruction and perforations. Unsurprisingly, Bard denied any wrongdoing on their end but ultimately ended up settling these claims for a total of $1,375,000.
Visit this page for more information on hernia mesh lawsuit settlements and amounts.
Although there are no official FDA recalls, cases are beginning to mount against Bard's 3D Max product.
More about the Bard Kugel Patch
The Bard Composix Kugel Patch is a device intended to repair inguinal and ventral hernias and is a double-sided patch composed of polypropylene on one side and a layer of Teflon or ePTFE on the other. The device also contains a memory coil or ring of PET (Polyethylene Terephthalate ) in the middle which is designed to keep the patch flat and open.
Unfortunately, the memory recoil ring had a tendency to break, leading to bowel perforations or intestinal fistulae. While there are other problematic issues with the Patch design, it was a defective memory ring that led the product to be recalled three times.
Davol/Bard began selling the Composix Kugel Patch in 2000 and the extra-large version (XL CK Patch) in 2002. By late 2005, Davol became aware of an increasing number of cases of breaks by the memory coil ring in the XL Composite Kugel prompting Davol to initiate an internal Corrective Action investigation. During this time, Davol halted the production of the patches while the investigation proceeded. Davol determined that discontinuation of the product was appropriate which prompted a voluntary recall of the Davol XL CK patches in December of 2005.
An "Urgent Product Recall" letter was sent to distributors, hospitals and physicians informing them the XL CK Patch is being recalled due to complaints of the memory coil ring breaking.
This voluntary recall of the XL CK Patch was extended to other versions of the patch and eventually led to a Class I Recall by the U.S. FDA. A Class I recall is reserved for the recall of products that could cause serious injury or even death.
Recently the FDA has encouraged anyone who has received a recalled version of the Bard Composix Kugel Mesh Patch to seek medical attention immediately. The hernia patch malfunction has been associated with persistent abdominal pain, fever, tenderness at the implant site and several other unusual symptoms. Currently, the products included in the recall are:
Bard® Composix® Kugel® Large Sized Patch Class I Recall and Market Withdrawal for Product Codes 0010206, 0010207
Product Code: 0010202, Bard® Composix® Kugel® Large Oval, 5.4″ x 7.0″
Product Code: 0010204, Bard® Composix® Kugel® Large Circle, 4.5″
Product Code: 0010209, Bard® Composix® Kugel® Oval, 6.3" x. 12.3"
These products were used in over 700,000 hernia procedures annually. Anyone who received one of these devices should closely monitor themselves for any sign of a break by the memory coil which can include persistent abdominal pain, fever, inflammation of the stomach and tenderness around the implant site.
Atrium C-Qur Mesh Patch Lawsuits
In December 2016, the Judicial Panel on Multi-District Litigation made the decision to consolidate the 21 federal lawsuits involving Atrium C-Qur patches. The cases, now called MDL 2753, In re Atrium Medical Corp. C-Qur Mesh Products Litigation were assigned to the Honorable Landya B. McCafferty of the United States District Court for the District of New Hampshire. Currently, over 800 cases have been filed against Atrium Medical in this MDL.
New Hampshire is home to the manufacturer, Atrium Medical. The litigation revolves around the Omega-3 coating that is placed on one side of the C-Qur patch. The coating is designed to prevent the polypropylene layer below it from adhering to any nearby organs or bowels. However, the coating has been linked to a variety of problems including immunological reactions, infections, and bowel obstructions. The number of cases in this MDL is expected to continue to climb.
More info on Atrium mesh recalls.
Ethicon Physiomesh Pulled From the Market
Ethicon voluntary pulled their Physiomesh Flexible Composite Mesh product from the market in May of 2016 after reports concluded that the product's recurrence and reoperation rates were higher than the rates of recurrence for other hernia mesh products. Two separate studies conducted in both Denmark and Germany supported this claim. The recall applied only to Ethicon's Physiomesh Flexible Composite Mesh and not the Open Flexible Composite Mesh which remains on the market.
The first Physiomesh case was initiated by Matthew Huff who was implanted with the device in 2013. Matthew began suffering from severe abdominal pain and fever a few years later. He was eventually diagnosed with an infection and treated for an intestinal fistula. These are both very common complications that originate from hernia mesh.
Like the C-Qur, the Judicial Panel on Multi-district Litigation consolidated all federal Physiomesh Flexible Composite Mesh cases creating MDL 2782, In re Physiomesh Flexible Composite Hernia Mesh Products Liability Litigation. The cases were assigned to the Honorable Richard Story of the U.S. District Court for the Northern District of Georgia. Currently, over 1,700 cases have been filed into this MDL and the first bellwether trial is set to commence in late 2020. A number of cases are also pending in New Jersey State Court Physiomesh MCL which was created in July of 2018.
Another Ethicon product, Ethicon Proceed Patch is also subject to a number of lawsuits alleging it caused a variety of serious injuries.
To get started, just click the button below.