Hernia Mesh Lawsuits and Your Right to Compensation
Is Hernia Mesh Causing You Pain and Discomfort?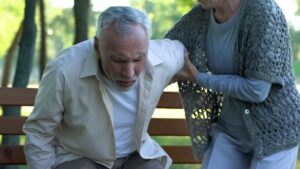 Wondering if you are eligible to file a hernia mesh lawsuit and claim compensation? Start by finding out what you need to know before filing a hernia mesh lawsuit.
Right now, we see a significant increase in hernia mesh claims throughout the United States. Dangerous hernia mesh products continue to flood the market. Patients continue to suffer pain and undergo multiple surgeries because of faulty hernia mesh.
Manufacturers are rushing hernia mesh products to the market without proper clinical trials or safety checks. While the FDA is aware of the issue, there are still numerous unsafe mesh products in circulation. Hospitals and surgeons continue to use these products daily while individual patients are kept in the dark.
Hernia mesh manufacturers are putting the public's health at risk while raking in record profits.
If you've suffered from complications related to a hernia mesh, you already know how serious the problems can be. Maybe you've had intestinal fistulas, bowel perforations, or several other known complications and side effects from hernia mesh.
The good news is that you're not alone, and you have come to the right place for help. Hernia mesh complications have destroyed the lives of thousands of people.
Consumers have filed thousands of hernia mesh lawsuits in federal and state courts across the country. We want to help you take action and get back your life. You must receive the proper compensation for all your medical bills, lost wages, pain, and suffering.
What is Hernia Mesh and Why is it Used?
First, let's explain what a hernia is. A hernia is a tissue enlargement or projection through a muscle or membrane in the human body. When tissue extends beyond its normal limits or bulges out, it is said to be a hernia. While hernias may not harm the human body initially, they can cause unimaginable pain to the person experiencing it as they enlarge.
Hernias can result from many causes, from genetics to poor lifting techniques. Interestingly, age is not a significant factor in determining one's hernia risk. Hernias can occur in both adults and children.
We commonly refer to three different types of hernias (although there are more) depending on the cause or location of the hernia within the human body.
Inguinal Hernias
An inguinal hernia refers to those that occur near the groin area. The groin area tends to be one of the most common areas for a hernia. Some 600,000 individuals in the U.S. undergo surgery each year to repair this type of hernia.
The Lichtenstein repair is considered the best treatment for primary inguinal hernias. Not known to be a complicated procedure, general surgeons may use this type of treatment in addition to specialists. The benefits of this intervention are reduced pain and a faster period of recovery.
For bilateral hernias, a laparoscopic repair is not only recommended but necessary. There are a few factors that influence the operation type, but the most important is cavity size. For example, surgeons should not use hernia mesh on cavities smaller than 10 cm in diameter as white blood cells may have difficulty accessing the injury site.
Watch a 3D animation of inguinal hernia surgery.
Umbilical Hernias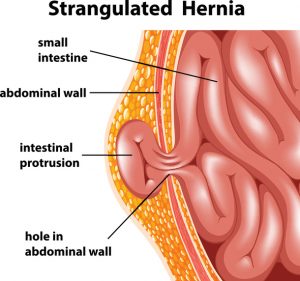 Umbilical hernias originate near the belly button and are most common in young infants. These are not usually surgically repaired in children. Typically, once the child reaches the age of 3, the hernia shrinks and heals by itself.
Some mothers try to increase the speed of the healing by taping a coin to the bulge and forcing it to stay in place. This method is not medically tested or recommended. In some cases, umbilical hernias do require surgical intervention. You can read more on infant hernias.
As with most hernias, a weakness in the intestinal wall causes a protrusion, which in turn causes a protrusion in the abdominal wall.
Incisional Hernias
Incisional hernias occur in areas where there was a previous incision in the abdomen. Incisional hernias could result from any prior operation, including previous hernia repairs. Hernias that recur in the area of a previous hernia operation are commonly called a "recurrence." Recurrence repairs for this type of injury may or may not result from some defect or problem with the hernia mesh.
Hernia Mesh Complications and Side Effects
The FDA has uncovered serious issues with several different hernia mesh products over the past decade. Large multi-national manufacturers such as Bard, Johnson & Johnson, and Covidien have all been named in recent hernia mesh lawsuits.
It's essential to understand the history and application of surgical mesh in hernia-related operations to understand the risks. Doctors have used surgical mesh in various types of operations dating as far back as the 1940s. Around this time, synthetic polymers (plastics) were also being created and developed for the first time. In particular, one polymer became the standard material used in the construction of the surgical mesh.
By the 1960s, polypropylene was used in thousands of patients in hernia operations. With the extra support from this mesh, the hope was that the damaged tissue could heal more efficiently and prevent hernia reoccurrence. Read more about the history of hernia mesh.
This modern surgical mesh is usually a piece of woven medical-grade plastic inserted into the site of a hernia and helps strengthen the affected area. During the operation, the mesh is inserted in a folded position, and it pops out once inside the patient. Typically via the assistance of a spring.
Using mesh can be a good solution to a problem that is often debilitating and frustrating. The mesh can strengthen the muscle wall and prevent the organs and tissue behind the abdominal wall from popping back through. Mesh should require no maintenance and can stay in the body for years.
However, a hernia mesh can also lead to severe medical complications if it malfunctions or was defectively designed. Since hernia mesh is commonly placed near major digestive organs of the body, particularly in an abdominal hernia, the resulting injuries can be severe.
So how does a hernia mesh fail or malfunction? One primary culprit is the mesh's structural material, polypropylene.
Most injuries and symptoms originate and are localized at the operation site when polypropylene is implanted.
Infections are one of the most common issues when a coated polypropylene mesh is used. However, many symptoms and side effects can be linked to polypropylene. Please see our hernia mesh complications page for additional information and details.
The FDA has received numerous hernia mesh complaints through its MedWatch program. Consumer complaints prompted the FDA to release an FDA safety communication intended to inform patients about the actual risks of hernia mesh.
The FDA safety notice states that most of the severe mesh complications previously reported were linked to hernia mesh products already removed from the market. However, the FDA continues to observe and receive reports of serious complications from hernia mesh products. You can also read about some of the prior polypropylene mesh settlements (pelvic and hernia) to get a sense of the compensation received by some individuals.
Hernia Mesh Compensation Lawsuits. Are You Eligible?
Possibly. You can't know for sure until you contact us with the details of your mesh surgical history. However, most eligible consumers had a hernia mesh implanted and then had a subsequent surgery to fix or remove the mesh. Typically such persons also suffer from severe pain, complications, and other side effects.
Over 20,000 hernia mesh lawsuits are currently on file throughout the United States. There are groups of cases in various areas of the country, each focusing on a different hernia mesh manufacturer. For example, most Bard hernia mesh lawsuits are moving forward in Ohio.
Around the country, people are filing individual lawsuits against the manufacturers of hernia mesh products and taking back control of their medical issues.
If you are suffering from hernia mesh complications, you should contact an experienced mesh lawyer as soon as possible. All legal claims have time limits. You may be able to get significant compensation for your pain and suffering, missed work, and medical bills.
You can contact us by using this form. Please include as much detail as possible. Helpful information includes the location and date of your operation, the manufacturer of your mesh (if known), and any symptoms you've been experiencing. To speed up the entire process, you can also retrieve and send us surgery reports or medical records from your hernia mesh surgeries.
You Are Not Alone!
If you've suffered pain and other complications from a hernia mesh, you already know how severe and life-altering these problems can be. Maybe you've had intestinal fistulas or bowel perforations. You may have also suffered from significant irritation or hernia mesh infections.
Many others are suffering in similar ways, and thousands choose to pursue legal claims for their pain, suffering, and medical expenses. These problems have affected thousands of others, and new cases are reported daily. We can help!
How We Can Help
When investigating and filing a hernia mesh lawsuit, it's essential to have experienced legal professionals on your side. An experienced professional can help win your case and reach a more substantial and faster settlement for you and your family.
As an independent team of expert attorneys, we have years of experience dealing with defective medical devices like hernia mesh. Our expertise and knowledge of the different mesh manufacturers, hernia mesh devices, and recent litigation give us a clear advantage over other firms.
Most importantly, we always work on a contingency fee basis. In other words, we get paid only if you win.
We are helping people who underwent hernia mesh surgery and now suffer complications and side effects as a result.
To get started, click the button below.
Related source: Find hernia mesh lawsuit lawyers near me. Our mesh attorneys at the Doyle APC law firm take cases across the nation.