Atrium medical corporation (now Maquet Medical Systems USA / Getinge Group) produces the C-Qur product line of coated and uncoated surgical mesh for hernia repair.
The C-Qur products entered the market back in 2006 and were approved in the United States under the 510(k) fast-track FDA approval process. This 510(k) process allows medical device manufacturers to bypass the normal and longer FDA medical device approval process, which requires stringent clinical testing for patient safety and efficacy.
The Atrium C-Qur product line includes the following products:
C-Qur: The original composite mesh featuring the Omega-3 fatty acid coating. Used in open and lap repairs.
C-Qur CentriFX: indicated for laparoscopic inguinal hernia repair.
C-Qur Edge: subject to a Class II recall for packaging issues.
C-Qur FX: indicated for laparoscopic and open hernia repair.
C-Qur Tacshield: indicated for the repair of medium to large size open ventral hernia repairs.
C-Qur Mosaic: indicated for laparoscopic and open hernia repair.
C-Qur Film: used in a variety of abdominal surgeries and designed to reduce adhesions.
C-Qur V-Patch: indicated for use in small hernias (umbilical, epigastric and trocar site defects).
Injured by Hernia Mesh?
Contact Us Today to Discuss a Claim for Compensation.
The original Atrium C-Qur mesh product line featured a revolutionary Omega-3 fatty acid layer designed to integrate naturally with the patient's body over time.
Unfortunately, many people began experiencing infections near the operation site and other serious medical issues such as bowel obstruction and reaction to the Omega-3 coating. Once the C-Qur product integrates within the patient's body, it can be complicated and dangerous to remove, particularly if it has already bound to internal organs.
Atrium C-Qur Mesh Recall
On August 9, 2013, the FDA issued four Class 2 device recalls for Atrium's C-Qur mesh products. FDA medical device recalls were issued for Atrium's
The FDA had discovered problems with the C-Qur's packaging that could damage the mesh and particularly the mesh's Omega-3 coating. An estimated 145,251 C-Qur hernia mesh medical devices were recalled in official notices sent to surgeons and hospitals worldwide.
It is believed that many other hernia mesh products were also defective and went undetected by the FDA and others. These hernia mesh products were implanted in unsuspecting patients over a period of many years.
Atrium C-Qur Hernia Mesh Lawsuits
The Atrium C-Qur mesh cases were consolidated into a Multi-District Litigation or "MDL" before one federal judge. The cases were sent to United States District Court Judge Landya McCafferty in the United States District Court for the District of New Hampshire. The C-Qur MDL is titled Atrium Medical Corp. C-Qur Mesh Products Liability Litigation, Case No. 16-md-2753 LM.
Currently there are over 2,500 cases transferred to or filed in this Atrium C-Qur hernia mesh MDL.
If you received an Atrium hernia mesh and are experiencing complications, please contact us now to see if you are eligible for compensation.
C-Qur Mesh Injuries
C-Qur is known to cause injuries such as infections, bowel obstructions, internal bleeding, rash, and allergic reactions to name just a few. There are multiple scientific articles that support these findings (please see our list below).
You can broadly separate C-Qur injuries into two categories based on the root cause: adhesion injuries and Omega-3 coating injures.
Adhesion injuries is a broad category and include complications from the standalone mesh product. These injuries are also caused by the mesh products of many other manufacturers and are related to a fundamental concern with these types of mesh. That is, the human body is not designed to integrate well with synthetic (plastic) products. The use of synthetic products (such as mesh) to repair internal body tissues is not an ideal application. The body sees the mesh as a foreign body and attacks it.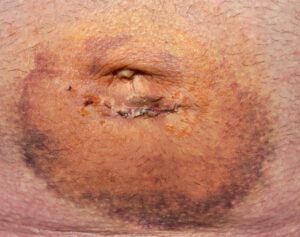 The Omega-3 injuries are associated with the fatty acid coating on the mesh. This coating is intended to be naturally absorbed by the body and thus prevent adhesions (a common complication in most hernia mesh products). But problems with this coating inside the packaging led to the first atrium mesh recall by the FDA.
Recently we've seen an alarming number of patients that require mesh removal because of serious immune responses caused by this coating. The most common side effects are infections and severe pain at the surgical site are reported.
Contact us today to discuss a Claim for Compensation.
The consultation is always FREE.
To get started, simply click on the button below.
References